A Wedding Magician Is The Best Wedding Entertainment
Let me paint you an image...
The ceremony is finished and "you" (the bride and groom) are getting a few quick congratulations from family and friends and than wanting to quickly leave so you can maximize your photo time during cocktail hour.
The guests have drinks in hands ready for a good time but everyone is standing around awkwardly awaiting your arrival back. Family and friends may have rarely interacted before and you may have a diverse range of guests from work colleagues, social groups and family. How do you keep everyone happy?
Cocktail hour is one of the primary dead times during your wedding day. Don't get me wrong everyone will make an effort and try connect with one another but for some if can be uncomfortable initiating conversation. Often "cocktail hour"is not just one hour but can be longer. This further exacerbates the problem where guests are needed to keep preoccupied for longer.
You are wanting to kick your wedding celebration off with a bang but instead guests are left bored and watching their watch and hoping you arrive back soon
.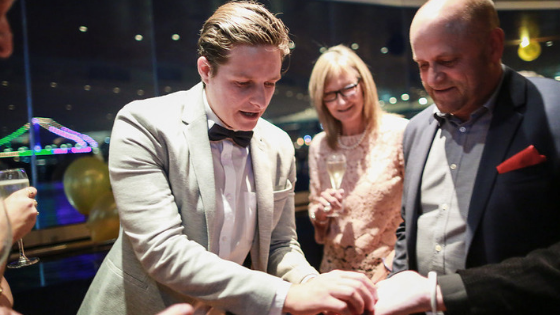 The Ultimate Ice Breaker
We are hoping after reading this blog post you will understand why we are such big fans of have wedding magician. Having a wedding magician is great way to amuse guests during welcome drinks and will break the ice as they gather in groups to be amazed.
Wedding magicians not only get your guests laughing, mingling and having a good time but even once the magic is over they will not stop talking about what they saw. 
A wedding magician will invite groups of people together and encourage them to interact in a group. If someone left out they can invite them over to share in the magic.
Your guests will appreciate the idea of a magician and even come up to and tell you how good the magician was.
Suitable For All Ages and Demographics
Magic has broad appeal. Very few entertainment options can be enjoyed by such a broad range of people.
People love magic, its gives them that sense of wonder. I have seen grown men become kids again when they just allow themselves to be taken away.
I can't speak for every magician but it is important to me that the magic I present to your guests never embarrasses anyone or is inappropriate.
I want people to remember a classy and impressive experience. Kind of like Jame Bond is floating around the room, eruptions of round of applause can be heard and laughter.
I never resort to cheap humor to get an easy laugh so can be assured your guests are looked after and in safe hands.
Magicians with a rabbit and top hat are a thing of the past the new generation of slick, well presented is here.
Very few wedding entertainment options offer you the broad appeal that a wedding magician does.
Flexible Wedding Entertainment
Whether its stand up or sit down vibes, or indoor or outdoor a wedding magician has your covered.
Especially with closeup mingle style magic all the magicians tricks are self contained or a small brief case so the magician can easily weave through the space.
We asked professional wedding magician Jason Gray to give us the top three considerations when hiring a close up wedding magician to make sure you find someone who is quality that will be guaranteed to amaze your guests.
Are they a true professional?
Firstly you need understand that any magician can slap a website together and list themselves as "award winning" and " 5 star" but the truth is every magician has to start somewhere.
I recommend that to get the best idea of the kind of level of professional you are looking at by watching their show reel. Nothing paints a true professional than the quality of the video on there website.
It is the closest thing to actually meeting them in person and experiencing the magic first hand. Watch the video and see the kinds of reactions they get, take note of if its shot in multiple venues or just a one off event.
To become a truly polished wedding entertainer it takes 100's of performances if not 1000's. If the video does not reflect this than stay clear. Don risk the quality of your entertainment on such a special day as your wedding.
Also google and you tube them! Do your research. I personally encourage clients to "google me" as I know they will be pleasantly surprised with tonnes of postie reviews and content.
How much does a wedding magician cost?
You pay for what you get. The price to hire a magician is extremely variable and will often depend on a few factors.
Hobbyist magicians that have learnt a few tricks off you tube will be cheap in price but it will be reflected in the product you give to your guests. Often the magic will be unpolished and tacky.
Get on the phone with the magician and specifically ask how many weddings they have done and get them to give you a rundown of the kind of tricks the expect to perform. Make sure they don just do cards tricks. Becoming a true professional that can give you guaranteed awesome experience for your guests takes time and experience.
You want a well rounded magician that is perfected in lots of different tricks, being able to borrow object in there surroundings (phones, glasses, credit card, money, forks) and perform seamless miracles in front of your eyes.
Also each magician will have their own unique character and style, some are more serious in presentation while others like to be the joker of the room. I find that a nice blend of appropriate classy comedy and impressive magic is the winner any day.
You want the magician to be super friendly and family appropriate and reflects classiness your deserve for your wedding day.
Price will depend on time the of year, how long the closeup magic is for and the level of experience.
What exactly will a wedding magician do? and how long should they stay for?
The wedding magician will go group to group (5-10) people at a time and entertain. Thunderous round of applause and shrieks of laughter will be heard. The energy in the room will be lifted as people excitingly anticipate when the wedding magician will approach their group. The magician will make objects vanish, reappear, objects will levitate, rubics cubes will solve instantly, forks will bend with his mind, classy card tricks will blow minds and phones pass codes will be unlocked. At the end of it your guests will be so impressed they will literally come up to you and tell you how good the closeup wedding magician was.
1-2 hours. Very rarely will you need a magician longer than this. You want the magician to maintain the high energy and leave guests wanting more. The real secret is not overdoing the the magic but having the magician entertain each group a couple of times and be on his way.
Your guests will use the magic as talking point and not stop talking about the miracles they witness and how fun it was.
Think of wedding magician as your secret weapon to keep guests entertained, facilitate conversation between groups and allow time to pass by quickly. If you think I would be a good fit for your wedding day than just reach out I am happy to help.